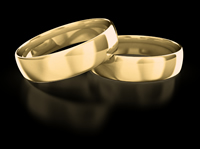 The

bridal formals

is a fun time to photograph the bride in her beautiful gown in a comfortable environment. The bride can relax and give me a natural smile. It gives the photographer and the bride a chance to be comfortable with each other. The bride learns techniques in posing that shows the bride's gown that shows details and flow of the gown, and the bride gains confidence in herself. Sometimes the bride will learn from the bridal portraits if she prefers to change her hairstyle or dress alteration. The session can last from 1-2 hours, depending upon the bride and her love to have her photo in the gown.

The

bridal formals

session can also include the bridesmaids, flower girl and the mothers of the bride and groom. There is no extra charge for this.

The bride receives a photo album with photos, a photo CD and an enlargement with a frame. She can use one of these photos to put in the paper after the wedding, and to enlarge her favorite photos to display at the reception.